The Robots!
Team Orr has 8 robots, here you can learn more about them
name: ValliANT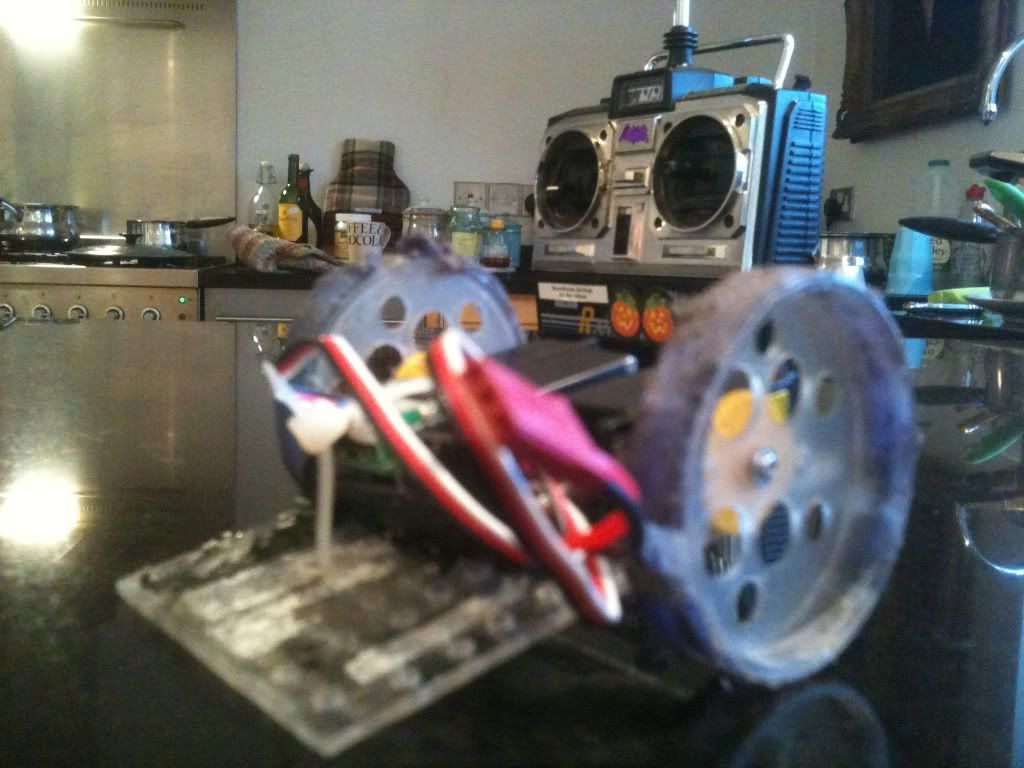 Weight: 150g's, Weight class: Antweight (or fairy-weight in america), Drive: 2x modified SD200 servos, R.x: Hitec feather, T.x: Hitec laser 4, Battery: 7.4v lipo, Weapon: electric axe,  Armor: 2mm Polycarbonate and 0.8mm Titainum, Notes: Has had 50 versions!
bio: Valliant was my first ever competitve robot, it has had many acomplishments, most notable of these  is its second place in the AWS 26 non-spinner. it is still active after 4 years! reliable and rugged its not one to mess around with!
Name:Dead Meat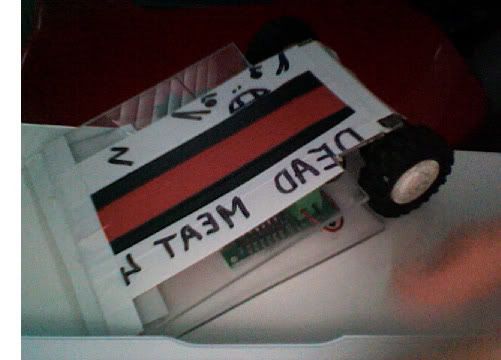 Weight: 150g's
Weight-class: U.K  Antweight, Drive: 2x micro geared motors, R.X: ar500, T.X: Spectrum dx5e, Battery: Lipo at 7.5v's, Speed-controller: Sabertooth, Weapon: flipper, Armor: 2mm Polycarbonate.
Bio: Was built with the kind help of Dan and Chris from Team ASBO over a weekend, was plagued by technical problems (and human error) so was always a kind of joke to the roboteering community, now its back better than ever, and looking to kick some ro-butt!
Name: Da Bomb
Weight: 10kg's, Weight class: U.K Featherweight, T.x Spectrum, R.x: Spectrum, Battery: 1x 12v Battle-pack, Weapon: Electric crusher, Armor: 3mm welded Mild Steel shell
Bio: The Armor for this machine was bought of ebay! from fellow roboteer Alex Marler for £70, it was mounted on a test bed and competed at Robots Live! Reading 09′, but was promtly demolished by the house robot, for 2011 im looking at resuscitating it and mounting on a electric crusher with over 650kg of force!
Name:Mythras
Weight: 99kg's, Weight-class: U.K Heavyweight, Drive: 2x Wheelchair Motors, T.x: Spectrum, R.x: spectrum, Battery: 2x sla's wired in parallel, Weapon: rammer ATM but possible axe/lifter combo to be fitted soon?, Armor: 10mm Steel
Bio: formally known as golden-eye, this old robot was our first taste of Heavyweight action! we bought it in 2008 of a old roboteer who origionaly built it for series 3 Robot wars the TV show where it fought such opponents as Lightning and Chaos 2, but was pretty much destroyed in the process. Team Orr promptly breathed life back into the old banger and competed at Roaming Robots Ayelsbury 09′ where it defeated Dantomkia before losing to Tilly Evo (a friendly grudge we hold to this day!). Mythras also had a brief spell at guildford 09′ but had to retire early due to a blown speed controller (a good thing too, or we would have been in a triple threat match with Thor and Terrorhurtz!). Mythras was sidelined for the rest of the season and was retired after Orrion joined the team, it was then given to Team ASBO to look after as they didnt have a heavyweight and were looking to break into the sport. Today Mythras can be found in the Townends garage getting minor upgrades every now and then so hopefully it will be on the live circuit again soon!
Name: R.i.p
Drive: 2x micro-geared motors, R.x : ar500, T.x : spectrum dx5e, power: 7.5v lipo, Armor: 2mm Polycarbonate
Bio: R.I.P (originally Dead Meat 1) was built to order by Josh Valman, it competed at AWS 26 under the Dead Meat banner with little success, it then competed at RRC 17 under the R.I.P name (by that stage Dead Meat evo was alive and well) where it was destroyed by variant and sidelined, during the lunch break of AWS 33, Jack and Tom Wilkenson of Team Thants got it running again. It will hopefully be active again soon but due to the 3 roller limit it might just have to be a standby incase any other robot drops out on the day.
orrion:
weight: 100kg, length: 1.10m, width: 0.60m, height: 0.35m, max speed: 15mph, turning circle: 1.0 m, ground clearance: 0-5cm, locamotion: wheels, weapons: pneumatic axe/flipper
Bio: Orrion was built by Team Iron Awe as a replacement for the old Axe Awe, it became Iron Awe 4 and competed on the live event circuit for a few years before being succeeded by Iron Awe 5. It was then bought and repaired by Team Orr who entered it at Robots Live! Reading 09′ under the Name Orrion, where it quickly built up a reputation as a dangerous machine, flipping a robot OOTA and bursting several opponents tyres in its first fight!-
So these are our robots…